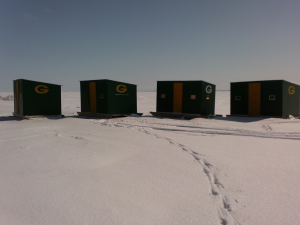 Green Bay Ice fishing has some of the largest, cleanest, insulated, heated shacks located on the top producing fishing hotspots on the Bay of Green Bay. Our shacks are foam insulated with floors.
We provide transportation to our shacks that feature comfortable seating, propane heat, with the holes predrilled when you arrive. Our shacks are 6×12 to 8×12 for groups for up to six people.
DAILY RENTAL RATES (8 hrs.)
UNGUIDED
$200.00 (up to 4 people)
$25.00 (per person over 4)
Shack rental includes:
*Clean, fully insulated, heated shacks placed on fish producing spots.
* Predrilled holes in shack
* Transportation to and from the shack.
* Ice scoops
* Gas grill available for your use.
* Clean heated bathroom on the ice.